Whatever the drainage issue
We can provide the solution
Drainage Repairs – these normally consist of either 'no dig technology' i.e 'lining' or excavation
The most common sizes of pipework that Inspect-A-Drain deals with in many excavations or lining projects are 75mm up to 150mm, however for special requests we can also undertake works on pipelines up to 300mm.
All excavations and drain repairs in Sheffield, Derby and Nottingham are undertaken safely and in accordance with the WRC drainage repair handbook. Only British standard pipe types are used.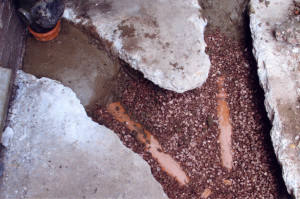 Customers are kept fully informed (before works commence) of:
Potential impacts that excavations or lining works may have on their property
Any usage of their services that may be required
On completion customers will be asked to:
Comment on how  the works have progressed

Comment on the condition of the site (how the site has been left) at the end of works.
Any concerns, if not dealt with on site, should be addressed to senior management by phoning us on 0800 195 8670 or 07967 029298. When you need help with drain repairs in Derby, Nottingham and Sheffield please contact Inspect-A-Drain today.
As well as offering our services in Nottingham, Sheffield and Derby please find our services in the following areas:
Blocked Drains in Chesterfield, Blocked Drains in Mansfield, Blocked Drains in Stoke on Trent.