Last summer, we showed you the biggest ever Fatberg found in a London Sewer.
This week, a study conducted by United Utilities found that the traditional English fry up could be one of the biggest offenders when it comes to blocking the nation's drains.
The North West Evening Mail reported that its residents pour an astonishing 2.9 million tonnes of fat down the drain each year – that works out to an average of over 70,000 fry ups worth of fat going into the nation's drains from that region alone.
How much fat is in a fry up?
Fried Egg – 8.3g fat
Sausage – 8.3g fat
Bacon (two rashers) – 6.2g fat
Baked Beans – 0.5g fat
Black Pudding – 4.5g fat
Fried Bread – 4.5g fat
The traditional English cooked breakfast is a treat for people across the nation on a weekly basis, however with people all over the UK mistakenly pouring millions of tonnes of fat down their drains every year, there is some serious damage being done.
Consequences:
The build up of fat in household drainage systems can be costly and disruptive to the drainage system, and it is a homeowner's responsibility to have these blockages fixed quickly and correctly when they occur on their property. However, the consequences of pouring fat down the drain are not purely financial. Fat building up in residential pipes prevents waste water from being drained away, which can cause pollution and internal drainage flooding, harming wildlife as well as causing serious damage to your pipes.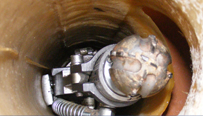 Please remember to dispose of fry ups responsibly, and if you are having issues with blocked drains in Sheffield, have them dealt with professionally by contacting our helpful and professional team today on 0115 8226086 or 07967 029298!