Last time, we brought you the story of a terrier that was rescued from a drain in North Shields. Ella, a Patterdale Terrier, was freed from the offending drain and ultimately returned to her 10-year old owner, and most of you probably reckoned that this sort of thing was a relatively rare occurrence. However, finding startled animals trapped within drains is a worryingly common problem, and a matter of days ago ITV News reported another such problem concerning a hedgehog.
Hedgehogs and Drains…
The hedgehog in question was discovered down a drain in Castel, a parish in Guernsey, and apparently this unlucky – or perhaps lucky – female hedgehog was then rushed to 'hospital' afterwards. Despite being very thin as a result of her ordeal, the hedgehog is recovering well, and is being kept at the shelter for the time being until she regains her strength. However, this almost trivial tale masks a serious issue; the fact that UK hedgehogs are really struggling at the moment.
During the build-up to winter, hedgehogs suffer due to a lack of food and the cold weather, and this results in them becoming sick. Therefore, they're more likely to attempt to hibernate in potentially ill-suited locations. Although you may never have thought about it, hedgehogs actually do a lot for us, as they are one of nature's solutions to several pest control problems, so be sure to look at ITV's article on how to diagnose an injured hedgehog. Hey, we may like to predominantly talk about drains here on our blog, but that doesn't mean that we can't spare a thought for the little guys too!
Other Stuff and Drains…
It's fair to say that you can find all sorts of things down a drain. In the last week or so, a judge has ruled that some 18,000 bottles of wine found in Lancashire and West Yorkshire should be poured down the drain. Literally. The suspicion is that the excise duty on the wine hadn't been paid, so down the drain it goes. You might think that's a terrible waste, and you'd probably be right, but sometimes stuff gets thrown down drains that really shouldn't be there, and for those notable occasions where a blocked drain is the inevitable result, we're always on hand to help.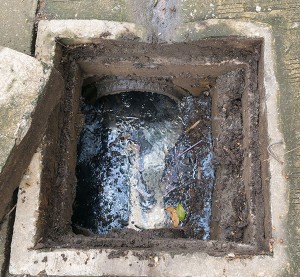 At Inspect a Drain, we specialise in unblocking even the toughest of drainage issues, and that means we can always help you, no matter whether your drain is plugged by an item of clothing or an over adventurous animal. To request a solution to any problem relating to drains, call our blocked drains Derby specialists, please contact us now by calling 0800 195 8670, 01335 360879 or send us an email at roger@drain-inspections.com today.