It might not sound like the most fun way you can spend a Saturday afternoon, but if you live in or happen to be visiting Brighton, you can take a tour around the depths of the historic sewer system. The tours take you back to learn about the secrets of 150 years ago, and show you how the Victorian system continues to serve the city.
Brief History
Obviously, we don't want to ruin the surprise for you, so we'll keep the history brief! Until the mid 1800s, Brighton was without a sewer system, so household waste would flow outside into a cesspool at the back of the house. Thankfully, this all changed in 1860, when the town council decided to create a system that would drain out to sea. It is commonly said that the reason Brighton's beaches are pebbled, rather than sandy, is because the bricklayers took sand from the beaches to make the cement for the sewer's bricks.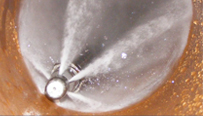 What Happens
When you take a tour around Brighton's sewers, you will listen to a short talk and watch an informative video before you get down to the good stuff! After being kitted out with hard hats, passes and protective latex gloves, you will get to venture into the depths of the old system, where you will walk 400 yards of the 30 miles of sewers during a tour which will last around an hour.
What You Need to Know
As it is still a working sewer, there are plenty of precautions being taken to ensure that you are safe during the tour. This means that there is an alarm system in place that will alert your guide about sudden rain or a build-up of gases, ensuring they can get you to safety in plenty of time. The tours are only open to children over 11 years old, and it is advised that those who wish to attend are in relatively good health due to the fact that you will have to walk through the cramped and often slippery tunnels (as well as climb a 15 ft vertical exit ladder).
If you have a drainage problem then contact the experts in  residents rely on.
If you're interested in learning more about the workings of our sewer systems, visit the Southern Water website. In the meantime, if you're having problems with blocked drains in Chesterfield and the surrounding area, we're here to help! If you would like more information about any of our services, please don't hesitate to contact us by calling 0115 8226086 to speak to a member of our team.