Piranhas, prosthetics, and a Pooh – of the cuddly bear variety; these are just a selection of the more unusual items discovered in our nation's drains last year.
As a leading provider of drain unblocking services Nottingham residents rely on, here at Inspect-a-Drain we know a thing or two about blocked drains – and the damage offending items can cause them.
But every now and again something a little more bizarre turns up, which even leaves us scratching our heads.
If you've ever wondered what could be lurking in the drains beneath your feet, then read on, as we take a look at some of the more wonderfully weird objects – and critters – found hidden in drains.
A Rolex
Rolex watches are most often found in high-end jewellers, and on the wrists of movie stars. But back in 2011, a street cleaner in Essex literally struck gold, after discovering a Rolex in a rather more humble accommodation – a railway station drain.
And this wasn't just any Rolex: it was an 18 carat gold Rolex Oyster Perpetual Cosmograph, worth an estimated £21,000.
This remarkable story doesn't end there either. The intrepid drain inspector later found a further three watches in nearby drains – including another Rolex. Talk about a lucky find!
A Courageous Cow
Facing certain death in a French abattoir, one daredevil cow plotted a rather audacious great escape.
After making a run for it, the brave bovine was found a few days later hiding out in the relative safety of a nearby drain.
You'll no doubt be overjoyed to learn this story has a rather happy ending too. Touched by the cow's courageous spirit, the decision was made to allow the cow to live out the rest of its days in a field.
Sewer Crocs
Drains can be dark, dangerous places, full of all sorts of nastiest. And whilst it might sound like something fresh out of a horror movie, sometimes these nasty finds can bite back too.
Sewer-dwelling crocs have been the stuff of urban legends for decades. But, in some countries, such claims are more fact than fiction.
In fact, in Australia, crocs cropping up in drains are a surprisingly regular occurrence. Eek!
America, too, is no stranger to tales of dangerous sewer-dwellers. In 2011, an alligator measuring a whopping 14ft was found wedged in sewage pipe in Tampa, Florida. It's fair to say it gave the poor sewage workers who stumbled upon it a bit of a fright.
A Mini
Some auto-experts might disagree, but Minis aren't typically considered worth flushing down the drain – even Michael Caine in The Italian Job had the good grace to drive them clear of the sewer system. Regardless, one of London's major sewers was once found to be housing half a Mini.
Never mind what happened to the other half, the burning question here is how on earth it even got there in the first place!
Dentures!
False teeth are a surprisingly common sewer find. And they can be familiar culprit when it comes to pipe blockages. How they end up here though remains another one of life's many mysteries.
So prevalent is this problem that one utility company here in the UK began posting pictures of the recovered teeth on their website, in the hopes of reuniting them with their owners. Whilst this gesture of goodwill is really rather touching, whether they would actually want them back or not is another matter.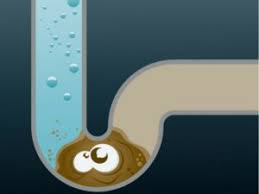 Something a Little Fishy.
Back in 2014, the nation was rocked by the news of the discovery of a flesh-eating piranha in a Telford sewer.
But the initial shock of the find, soon gave way to some healthy scepticism. Following much speculation as to how a piranha could have found its way into a Shropshire sewer, a fish expert delivered the news that the mysterious fish was in fact a Tilapis – a commonly farmed breed of fish.
Regardless of the exact nature of the fish, the message of this cautionary tale remains the same: whatever fish you buy, don't flush it down the toilet!
Just because you flush something down the loo – or wash it down the sink – doesn't mean it won't see the light of day again. As these peculiar tales show, you never know what could be lurking beneath your feet.
If you're having issues with your drainage system, whatever the cause, then we're on call for you. We're experts, when it comes to blocked drains Nottingham people call us, ready to help keep your drains clean, clear, and free of any unexpected surprises.
For more information, contact us today by giving us a call on 0115 822 6086.