There's not much normal about the Paris sewer systems, for one you could have a tour by boat through the sewer system until pretty recently. But the way that they sometimes clean the sewers is probably the most bizarre in the world.
Sewer systems need a constant flow of water through them to stop things sticking around for too long or backing up. Occasionally a blockage will stop or slow this water and it'll have to be cleaned out somehow. In the smaller, domestic pipes companies like us, who are experienced in dealing with blocked drains in Stoke-On-Trent, are hired to sort out the problem quickly, but with larger sewers, more drastic measures need to be taken.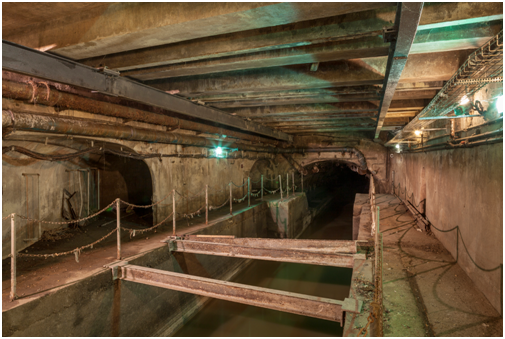 Most sewer unblocking work is pretty uninteresting unless you're talking about the sewers in India that are unblocked by workers who go down and use their bare hands to remove blockages. However disgusting that may be, it still isn't as unbelievable as the process that is used in the sewers underneath Paris.
Whereas most other sewer systems have workers go down, the Paris sewer systems' answer is just to throw a giant ball down there. With a diameter of just under the width of the pipes, the ball is put into the pipes and pushed along by the water behind it. Not much water can get past the giant balls, causing the water pressure to build up and push the balls with such a velocity that it dislodges any grit, fat, and blockages that stand in their way, leaving behind a pretty clean sewer pipe. One of these huge balls can be seen in the below video.
These balls were introduced in the late 19th century by engineer Eugène Belgrand when Napoleon III ordered the construction of new sewers to improve the city's sanitation systems. The French equivalent of Joseph Bazalgette, Belgrand implemented so many changes to the sewers that tours of the system were demanded and many began to see the sewers from boats and walking tours. One of the main benefits of these balls is that the sewers could be cleaned without people having to go in, making it much more sanitary for workers.
Today, many of these balls can be seen in the Paris Sewers Museum, from the smaller wooden ones to the larger metal ones so if you can stomach the smell take a look. Although we use much more modern techniques, we at Inspect-A-Drain are here to service your drains at home, whether you need unblocking work, CCTV surveys or repairs to your drain, our experienced team will be able to help you out. For more information about we can provide contact us on and a member of our team will be happy to help.